Amoxicillin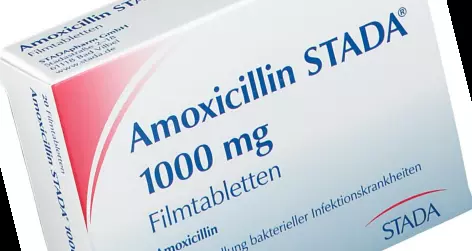 The drug Amoxicillin is a semi-synthetic antibiotic of broad-spectrum penicillin drugs. It's mostly used for the treatment of bacterial infections caused by susceptible pathogen micro-organisms: respiratory tract infections (bronchitis, pneumonia, tonsillitis, acute otitis media, pharyngitis, sinusitis), urinary tract (urethritis, cystitis, pyelitis, pyelonephritis, endometritis, cervicitis), skin and soft tissue (erysipelas, impetigo, secondarily infected dermatitis), abdominal infections and gastrointestinal infections (peritonitis, cholecystitis, cholangitis, typhoid, dysentery, salmonellosis, salmonella carrier), leptospirosis, listeriosis, meningitis, sepsis, Lyme disease, gonorrhea, eradication Helicobacter pylori (in combination therapy), prevention of endocarditis, and surgical infection. But even if you think you have the symptoms of any disease mentioned above, do not go to the pharmacy and purchase Amoxicillin as it is a prescription drug.
Indication
It belongs to the group of semi-synthetic penicillin, broad-spectrum antimicrobial agents for systemic use. It suppresses the growth of microorganisms that cause various kinds of infections. It is indicated for the treatment of infections that are caused by organisms, which are sensitive to it.
Each tablet of Amoxicillin contains the active substance: 250 mg or 500 mg of amoxicillin and excipients: magnesium stearate, talc, brilliant blue E133, carmoisin E122, orange yellow E110, titanium dioxide, iron oxide yellow, gelatin.
Consult a doctor as he's able to evaluate the benefits of the drug in your particular condition. Amoxicillin is a prescription drug, so you can take it only after getting the drug recipe from your doctor.
Contraindications
Before taking the drug you should tell your healthcare provider about all the symptoms you are experiencing and about the diseases you have or have had recently. Amoxicillin has some contraindications, so if you have any of the following health conditions, then this drug is not recommended to you. It is contraindicated to people experiencing hypersensitivity to penicillin, infectious mononucleosis, hypersensitivity to xenobiotics, allergic diathesis, bronchial asthma, hay fever, lymphocytic leukemia, gastrointestinal diseases in the anamnesis (especially colitis associated with antibiotics), and kidney disease.
Amoxicillin is not recommended during pregnancy, but the usage of this medication is possible if the benefits to the mother outweighs the potential risk to the fetus (adequate and well controlled studies in pregnant women has not been carried out). You should tell your doctor beforehand if you are pregnant or breastfeeding a baby. Do not take this medication without the doctor's permission and instructions.
Tell your doctor about any medications that you have to take at present time and about all the medications that you have taken recently, including dietary supplements and vitamins. Amoxicillin in New Zealand can have a bad interaction with some medications and substances so before taking it you should consult with a medical specialist.
Method of Application
The Amoxicillin tablets should not be broken, cracked or chewed while taking. The tablets are usually taken whole with a small amount of a liquid, regardless of the meal time. It is recommended to use water for drinking. The daily dosage of the drug should be divided throughout the day. The time intervals between doses should be the same.
If the medication has been prescribed to your child, then you can choose the liquid form, so that make it easier to take the medicine and swallow it. Check with your child's therapist for the exact dosage for your child. The dose of Amoxicillin for children depends on their weight. The liquid form is produced together with a special syringe for oral taking the medication. An ordinary teaspoon does not have special notes for measuring the dosage and cannot be used to administer the drug.
If for some reason you missed taking the medication, then you should take it in accordance with the medication plan, skipping the forgotten dose. It is forbidden to take a double dosage of Amoxicillin, as this can cause negative consequences.
Use the drug according to the doctor's recommendations and the instructions, which come with the drug.
Side Effects
Taking Amoxicillin may cause some adverse reactions. Some of the most often encounte in New Zealandred Amoxicillin side-effects include the following symptoms: skin rashes, rhinitis, conjunctivitis, dermatitis exfoliative, erythema multiforme, nausea, vomiting, taste changes, diarrhea, pain in the anus, stomatitis, glossitis, anxiety, insomnia, headache, dizziness, shortness of breath, joint pain, and oral candidiasis.
In order to avoid any unwanted effects, follow the recommendations carefully, concerning the dosage and the time of consumption.
Storage
Store the medicines in a place protected from moisture and light, at a temperature not exceeding 25 ° C. Keep all your medicines out of the reach of children.
Comparison